The Series

From executive producer/director/editor David Tarleton and executive producer/star Adria Dawn comes Dorkumentary! Each webisode is a comedic improv inspired loosely by the lives of its creators. Come dork out with Adria and her hysterical guest stars as they improvise their way into your heart. Dorkumentary.  Being a dork has never been this cool.
Tarleton/Dawn Productions

Tarleton/Dawn Productions is operated by husband and wife creative team David Tarleton and Adria Dawn. TDP is a multi-media production company and Dorkumentary is their first Internet series. Tarleton/Dawn Productions also has an education branch in which Adria and David coach actors and bring workshops to Universities.
David Tarleton (Executive Producer, Director, DP, Editor)
An award-winning producer, director and editor, David has created programs for Sony Pictures, The Muppets, Syfy Channel, Walt Disney Pictures, 3Net, Fox, Comedy Central, Disney Channel, Tokyopop, Mattel, Universal, Warner Brothers, Baby Einstein, Showtime, Learn360 and more.
David produced and a directed the groundbreaking 3D television series "Dark Secrets," for cable channel 3Net, which played domestically, internationally, and on Netflix. He is executive producer, director and editor of the award-winning new media comedy series "Dorkumentary," starring Adria Dawn, and was editor of the Webby Award-winning Muppets series "Statler and Waldorf From The Balcony," for Disney. His breakthrough film as producer/director/editor, the gothic fairy-tale "Dinner," premiered at Slamdance, played on the SyFy Channel, and was released on DVD.
David produced and edited the award-winning feature documentary "What Babies Want," narrated by Noah Wyle, and its follow-up "Reducing Infant Mortality." He produced and edited "The Making of Warriors of Heaven and Earth," and "The Making of Double Vision," for Sony Pictures. He was also a producer, DP and editor on the pilot for "Dark Secrets," and senior editor for "The Pat Kilbane Show" for Comedy Central. He was VFX Supervisor for the award-winning feature documentary "Head Games," directed by Steve James. David was the senior editor at Wirebreak, a pioneering Internet video content provider.
David co-founded the production company Tarleton/Dawn Productions in 2004 with his wife, Adria Dawn. The company has produced films, plays, new media series, and has an education division. David is also a partner in Revealing Media Group, which produces socially activist media, including the short films "Pressure," "Viral," "Excluded," and "Bystander," distributed by Films Media Group, which he produced, co-directed, shot and edited.
Currently, he is directing the feature film "Hunter," a thriller set in Chicago, and is producing the feature documentary "SafeZone," about Syrian refugees in Lebanon. He is also in post-production on the all-greenscreen film "The Photographist," an adaptation of a Hans Christian Andersen story.
David also produces and directs theatre. With his wife, Adria Dawn, he produced and directed the play "The Miss Firecracker Contest," and executive produced "Rock N Roll Sex Machine," both in Los Angeles. He directed the plays "Sweeney Todd," "No Exit," and "The Indian Wants the Bronx," in Virginia.
David has served as a juror for numerous film festivals and awards, and was a programmer for the Slamdance Film Festival for nearly a half decade. For 12 years he worked as an actor/historian at Colonial Williamsburg, in Virginia. His writing has been published in CineMontage and Screen Magazine.
He is currently a tenured Associate Professor at Columbia College Chicago, where he is the Editing and Post-Production Coordinator for Cinema Art + Science, the Sound For Cinema B.F.A. Coordinator and teaches primarily Film Directing and Editing. David formerly taught Documentary production at UCLA Extension. He holds an M.F.A. in Cinema-Television from the University of Southern California, studied filmmaking at New York University, acting at Northwestern University, and has a Bachelor's degree in interdisciplinary studies from the University of Virginia. He is a member of the Academy of Television Arts and Sciences, the Motion Picture Editor's Guild and the University Film and Video Association. He can be found on the web at davidtarleton.com.
Adria Dawn (Executive Producer, Star)
As an actor, Adria Dawn loves working in both film and theatre. Recent film credits include #nofilter which screened at Cannes Story Corner. Upcoming on-screen work includes Bozonova, which Adria also co-produced.
She is most known for playing the dysfunctional outcast April Tuna on Ryan Murphy 's high school cult hit Popular (18 episodes and received a nomination for "Gutsiest Woman on Television" from Jane Magazine).
As a producer, Adria is the co-founder and co-producer of Tarleton/Dawn Productions, founded in Los Angeles in 2004. TDP works in various media, from tv/film, to plays, to web series.
She is also co-founder Revealing Media Group, which makes films for social change for young people.
As an arts educator, Adria private coaches actors, and has taught at and toured colleges teaching acting. She currently teaches at Acting Studio Chicago and The Performer's School. She has taught on-camera acting workshops across the United States and Europe.
Adriadawn.com
Imdb
Linkedin
Facebook
Twitter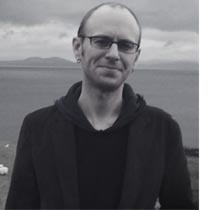 Andrew Edwards is a Chicago-based film, media, and theatre composer. His textural style is flavoured by his twin loves of pop and contemporary classical music, and is frequently tinged with melancholy. This made him a natural choice for work on Dorkumentary! He received his BA in Music Composition/Theory from the University of Illinois at Urbana-Champaign, and — under the direction of Andy Hill — his MFA in Music Composition for the Screen from Columbia College Chicago. In former lives, he has been a theatre teacher, the performing arts director at a New England boarding school, a pop/rock musician, and a sound engineer Off-Broadway in NYC. He is presently the owner of Blue Police Box Music; a full-service music creation studio on the North side of Chicago, the composer-in-residence for Chicago Tap Theatre, and adjunct faculty in Columbia College's Film Music MFA program. His music has been heard in national commercials, international trailers, and countless short films and documentaries, including, A Message From The East  Single Waltz, Bailout, and the forthcoming The Shadow (with Tarleton/Dawn Productions). In addition to Dorkumentary, his work on web series' includes Trep Life, all 15 shows on Gay Chicago TV (launching December 1st), and the upcoming Robin Hood update, Prince of Thieves. He just finished work on a Doctor Who-spinoff audio drama for Big Finish productions, and is currently writing the original score for a Tap Opera based on the 1960 French horror film, "Les yeux sans visage", with Marc Smith (the creator of the Poetry Slam). He lives adjacent to Chicago's beautiful Andersonville neighborhood with his partner, also Andrew, and his stalwart cat, Max. You can follow him on Facebook, on Twitter, and at his website.
Lee Sanders (Composer, episodes 1-4, theme music)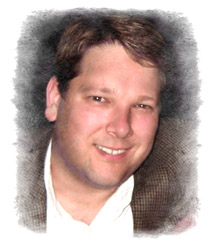 Lee Sanders began his musical training at the age of four, and created his first composition, a piano sonata, at age eight. In college he flirted with majors in English, philosophy and political science before deciding on a career as a composer.In 1996 Lee completed the film scoring program at the University of Southern California, where he studied with renowned composers such as Jerry Goldsmith, Elmer Bernstein and Christopher Young.In the years that followed, Lee laid the groundwork for his career by scoring over 70 independent short films and five independent features. As a composer, conductor and/or music producer, he contributed to shows such as Family Guy (Fox), House of Mouse (Disney/ABC), Charmed (WB), and Ripley's Believe It or Not! (TBS).Lee broke through the ranks when he was selected to compose music for the Lord of the Rings website for New Line Cinema. His work there won him recognition as a bright new talent. It also brought him to the attention of Jerry Bruckheimer and Bertram van Munster, who hired him to score CBS's Emmy-winning show The Amazing Race.In May 2005, Lee received a BMI Film & TV Music Award for The Amazing Race 7, and in November 2007 he won the first-ever Film & TV Music Award for "Best Score for a Reality Television Program" for his work over the course of the series.Lee recently completed scoring duties on The Amazing Race 12, The Bachelor 11, the independent documentary feature Popatopolis, and a series of international spots for the feature film Cloverfield. When he's not composing, you'll most likely find him zooming around LA in his beloved yellow MINI Cooper.